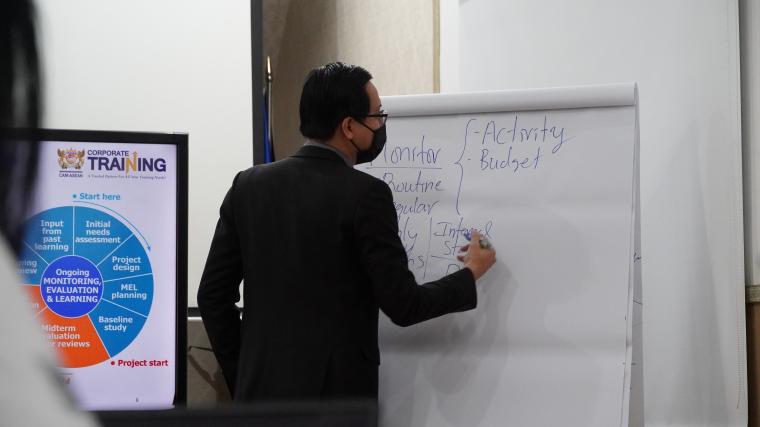 Essential Monitoring and Evaluation for Project Management
A monitoring, evaluation, accountability and learning plan is created to guide the collection, management and use of data. Data is collected ethically using the appropriate disaggregation and methodologies and is checked to ensure quality.

During the training, we focus mainly on: - Activities Based - Experiential Sharing - Role Play & Simulation - Game Based - Learning Action Plan - Case Study - Discussion - Facilitation - Evaluation
Typical participants include Project Managers who wants to robust growth and clear about MEAL processing.
Icebreakers, Slide Presentation, Exercise Bank, Case Study, Select Sequence, & Prepare Learning Activities
Builds employee trust. Providing insight and progress on programs and policies that employees engage with demonstrates transparency and makes efforts more sincere. Saves resources and time. Provides evidence of effectiveness (or lack thereof) to stakeholders and helps companies stay organized.
Objective
+ Understand the function and importance of monitoring and evaluating project implementation and results; + Analyze stakeholder issues, objectives and strategies before planning; + Understand participatory measurement indicators, means of predicting expected outcomes and impacts using logic tables and monitoring tables; + Use of data through the collection and analysis of data, as well as the preparation of reports and implemented results; + Understand project budgeting accountability and budget planning; + Learn about the process of preparing action plans, monitoring plans and evaluation plans; + Group discussion and practice of theoretical exercises taught by the trainer as well as additional research work after completing this training.